Headway Upright Bass Preamp EDB-2, $364.99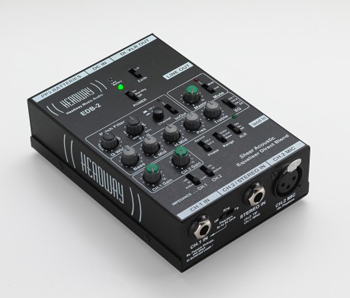 Here's the new, (much sought after) Headway upright bass preamp. The EDB-2 is a 'mega multi-purpose and compact external preamp' and so far, nothing out there can rival its capabilities and quality of sound. Some of its capabilities include: A 'refined' call "A" input and Pro Audio IC components, low in noise, effective 5 bank graphic EQ in both 1 and 2 channels, offers a 0 gain up to 32dB gain. Has versatile inputs offering switchable 3 way Impedance switching on Ch1 or Ch2 etc... This is a very substantial, well made preamp.
Customers can buy the preamp now by internet and we will enclose the certificate or call our toll free, 800-600-2689 line to add any additional items to the order and redeem the certificate immediately.

Click here to order the Headway, EDB-2, with free shipping and $10 Gift Certificate:
Here's some other specifications that are supplied by Headway.
Mono/Stereo Jacks Inputs
XLR input
Input impedance switchable to optimise various pickup types
3 Way "Range" Control selects High Pass Filter ( Low cut settings, between Guitar, Violin or Bass.
2 Channels
5 Band interactive EQ
Tunable Notch Filter with variable band width + In/Out
Phantom Power to Inputs via Switch
Balanced XLR Line Out ( Mix of 2 Channels ) + Earth Lift Switch
Jack Line Out in Mono Mix of 2 Channels
Battery or External DC Plug In Power Supply
Low Battery Indicator
Mount via Rubber Feet, Belt Clip or optional Mic Stand Bracket
Weight = 500g

Dimensions:
L=138mm
W= 93mm
D= 38mm
(D= 43mm incl. low profile knobs)

---
Headway EDM-1 DI Acoustic Equalizer/Preamp MINI, $219.00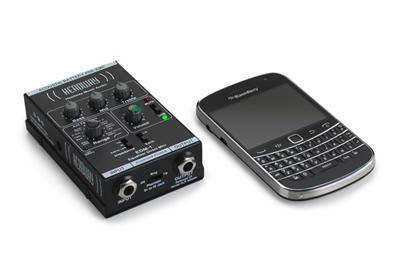 This is a great little preamp! The new Headway EDM-1 works just as well as the old (bigger) EDB-1 preamps, but as an improved instrument selector and more user friendly 3-Band EQ. It's nice and compact (about the size of a Blackberry phone!) and comes with a nice belt clip or music stand receptor. For the quality of sound and performance of this bass preamp, there is no other close to it in its price range. Only needs a simply 9-Volt battery. $219.
---
Genzler Megellan PRE Preamp/DI Pedal, $299.99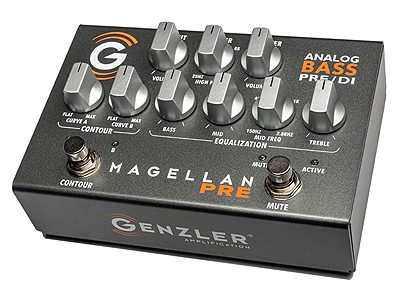 The Megellan PRE all analog design offers a wide range input gain contorl, 3 band equilization with sweepable mids. The unique foot switchable dual curve adjustable contour circuits, foot switchable mute circuit, aux input, headphone output, balanced/unbalanced main output nad balanced XLR direct output.

Wide Range Input Circuitr
Input and Master Volume Controls
Variable High Pass Filter
Switchable Dual Contours (A & B)
Indpendent Contour Controls
Same Megellan 3 Band EQ w/Sweepable Mids
Signal mute
Preamp Output-Capable of driving a Separate Power Amp
Aux Input
Headphone Control
Studio Quality Direct Out Circuitry w/Pre or Post and GND Lift
Lightweight Aluminum Chassis Construction
Operates on any Power Supply Voltage 9-18VDC Either Polarity (power supply not included)
Dimensions: 6"W x 4.3"D x 2.5"
Weight: 1.1 lb

---
Genzler Re-Q-Dual Function Pedal, $244.99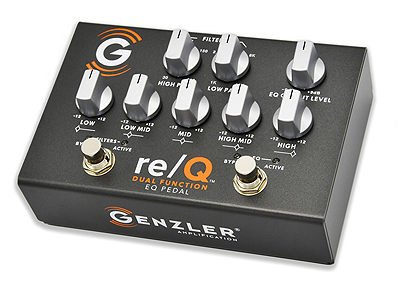 The re/Q DUAL FUNCTION EQ PEDAL is a low noise, ALL ANALOG multi-function HIGH PASS FILTER-LOW PASS FILTER and 5 BAND EQ pedal that gives the player complete over the cut-off of the extreme low and high frequencies, plus 5 bands of peak-dip equalization.
Lightweight Aluminum Chassis
Rugged Stomp Switches
Low-Noise, Silent Switching Capacity
High-Pass and Low-Pass Filter
5 Band Fixed EQ Network
EQ Output Level Control
Accepts Power Supplies from 9VDC-18VDC (low noise type), Either Polarity (auto detecting) 40mA Max- (Power Supply Not Included)
Dimensions: 6"W x 4.1"D x 2.3"H
Weight: 1.3 Lbs
Fishman Platinum Bass PRO-EQ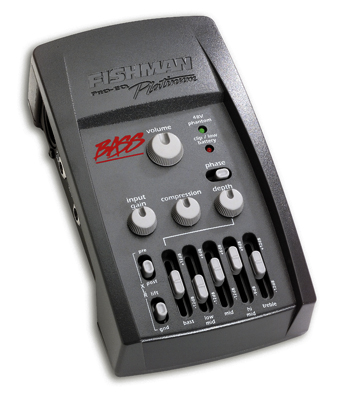 The new Fishman PRO-EQ Platinum Bass is a good reliable brand for upright bass accessories.
Five-band EQ with pump-free photo-optic compressor
Depth filter for big bottom without boom
Feedback-fighting Phase switch
Rugged, road-worthy molded body construction
3-way power from 9V battery, 48V phantom power or AC adaptor
Our Price, $164.95

Click here to order the Fishman Pro EQ Platinum Bass:
---
K&K Duo Channel Bass Preamp
This is a smaller preamp by K&K Sound that is usually used to combine pickups for those using one then switching to a 2nd or blending both pickups at the same time. Of course each channel has a separate volume control. The preamp is usually mounted to (in front of or in back) of the bass' tailpiece. The dimensions: 4 3/8" x 3 3/8" x 1/2"
It is compatible with both a Peizo style pickup and/or magnetic. It has strong bass, midrange and treble filters and offers internal gain adjustments which set the pre-amplification factor from 1 to 10 (per channel.) This means you can boost the signal input to 10-fold amount. It has two volume control knobs. You can also adjust the trim pots (small potentiometers) with supplied precision screw driver.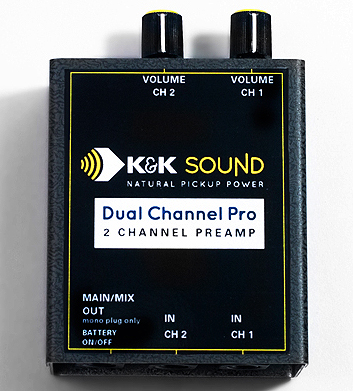 Technical Specs
Frequency range 10 - 30,000 Hz
Input Impedance: 1 Mega Ohm
Output Impedance: 3 K Ohm
Average Current: 3.5 mA
Battery hours: about 60
Dimensions: 110 x 85 x 38 mm / 4+3/8" x 3+3/8 x 1+ 1/2"
Input and Output Jacks: 1/4" instrument jacks
Bass, mid, treble EQ, gain and volume controls per channel