French upright bass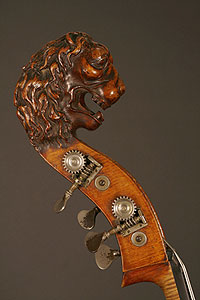 There are several "schools" or styles of upright bass making and French double basses have a very special and unique history. Soon after I got my first carved upright bass (back in 1980), I was intrigued how my bass luthier could simply look at a bass and quite quickly announce what country of origin it was from or even the maker that made the upright. My first upright bass was supposedly French. I say "supposedly" because now (almost 30 years) I remember some things on that particular bass that were more Bohemian than French. More about that later.
French upright basses
French basses for sure, are the most under rated (and highly undervalued basses in the world.) While anyone that has spent even an afternoon searching for information about upright basses will quickly ascertain that Italian basses are King! With all the celebrity status that Italian basses enjoy, in the past 20-30 years, English basses have really almost equaled their prestige and have caught up to about the same prices. Italians never really mass produced basses. The English, made many basses (often some Italian copies) and liked to make the same models. (See our English upright basses page for more about them.) The French, had several things going in their favor. For one, they had a whole industry of bass making. They made basses for everyone: students, amateurs, king's courts, and professional orchestra and ballets as well.
The Mirecourt upright bass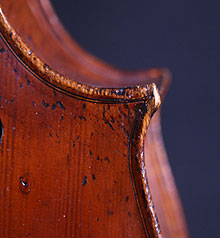 While there are some really fine French bass making to this present day, this page will dedicate more of a historic perspective of French upright bass. Really, the center of French violin making has have be Mirecourt, France. In the 18th Century, Mirecourt was classified as a "department" of France rather than a city. A region, found far northeast. There are several folk tales about exactly who or when the first violins were made. One being that a maker named Tywersus (an Italian none the less), appeared in Mirecourt and taught a small group of men how to make violins, and that was the birth of the Mirecourt school! Only problem is that there was never any mention or instrument ever made or discovered by such a maker. Mirecourt was churning out instruments of all sorts in full swing as early as the mid to late 1760's. The real rennaisance period (or golden age period) would have to be considered the 19th century. Primarily the dates, when Jean Baptiste Vuillaume lived and died (1798-1875).
Upright basses made in Mirecourt were just normal extensions of demand for all stringed instruments. Mirecourt was a huge production, with the whole region making instruments. While it's not possible to list all of the important bass makers (or firms) that made French upright basses, here is a short one just for interest and reference:
French upright bass makers:
Jean Baptiste Vuillaume (pronounced: Vwee-ohm')

Auguste Bernadel

Gustav Bernadel (son of Auguste, started a business with Gand and actually married his daughter!) henceforth some of the world's best basses came out of: Gand-Bernadel (and model for the present day, Wan-Bernadel upright bass.)

Charles Nicholas Gand

Charles Brugere

Leon Mortin

Francois Jacque Barbe

Paul Claudot

Georges Chanot

Honore Derazey

Joseph Pierre Hel

Gabriel Xavier Jacquet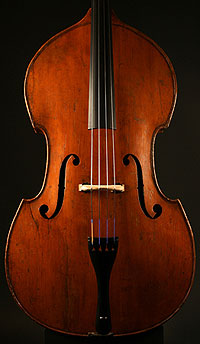 Those are just a few French upright bass makers. Most interesting though is the method and business practices of how French upright basses were produced, marketed and sold. There were entire (huge) firms that made instruments. One firm is legendary, called Jérôme-Thibouville-Lamy. They made some good French basses, but also lots and lots of violins and bows as well. (they first made woodwind instruments in the 1760's). Also there were firms that specialized in making upright basses, then selling them in the white (unfinished) to Parisian shops that then put their own labels inside and varnished them. Some shops had special models that they either designed or modified, but were still made in Mirecourt. Another really famous firm was the Gand-Bernadel firm. Besides Vuillaume, G&B made the most well known and sought after basses to this day. There are many present day makers that still make basses in this model: (see the Wan-Bernadel upright basses, Charton and Jean Auray. Another big firm that made great basses in France towards the end of the 1800's to very early 1900's, was the Laberte-Humberte firm whom made and sold some very famous basses to named violin shops/makers in Paris who again, put their own labels and finished the basses with their own varnish recipes.
Common characteristics of fine French upright basses:
Elegantly cut scrolls and f-holes (in the Strad pattern)

maple two piece backs, sides and neck. The wood found on a lot of French basses are ravishingly beautiful with heavy tiger flamed grain particularily on the back, sides and neck. The tops, (of spruce) have a nice straight grain

sloping shoulders

violin outline which would include the violin corners and even sometimes an outline of the violin/cello carved and purfled into the back which served no purpose other than keep the symmetry intact.

another really interesting style trait on most French upright basses, is the great fantastic steel and brass tuners. The Gand-Bernadels and Vuillaume basses had recessed metal tuners which were reliable (to this day!) and were a huge improvement over the old ebony "hat-pegged" style used through out the world until then. The ebony tuners creak, break and do not tune as finely.

more "reasonable" dimensions. Which might be part of the reason why the French basses and bassists really took off in the middle 1800's. While one can easily ask: Which came first, the chicken or the egg...? An easier bass to play which allowed the player to evolve upwards? Human nature is the same today: Upright bass players are always, always trying to make things easier AND sound better at the same time!

Lastly, French upright basses tend to be very focused and project better. It's a characteristic that comes from the maple sides and back. There is more power with maple because the wood itself is stronger and not as soft as poplar or walnut.

most of the incredible lions head scrolls were done in France.

raised edges in front or back

sometimes edges of top, back and scroll have a very fine back paint trim

more playable and moderate in size (there are some 7/8 basses, but mostly fuller, 3/4 size that are much easier to play and get around on

On some French basses, tops are thicker
Whether you are looking for a great, French upright bass, or a new Wan-Bernadel, it's time to email us a double bass question.