Wan-Bernadel Deluxe upright basses
These upright basses are the result of a life long passion and hard work ethic that marks the triumphs and achievements reflecting many years study. Built with an expertise and tradition that has evolved and taken hundreds of years to perfect, these basses reflect pride and love 'with dedication and total expectation for the player/artist to raise their art to the highest caliber.'

How they sound. Just like the old French, Bernadel upright basses of which they are copied, the Wan-Bernadel bass has power and a nicely focused sound. The notes that come out tend to sound more "rounded" without the edge found in a lot of new basses. The nicest attribute would have to be the way it carries throughout a bigger room or hall. For whatever genre; jazz or classical, it just works! We love the way the Spirocores sound on it for pizzicato. For Jazz, it has a nice sustain and tons of "growl!" The strings tend to have a nice "loose" feel and it's easy to get the notes out whereas some basses are "tight" and tiring to play.
See the Wan-Bernadel Videos! (Because of the type of lighting and brightness used on the videos, always refer to photos shown here for varnish texture and color accuracy.)

Bass shown here $4,950 (Deluxe cover included)
For classical/bowed playing, there is a quick responsiveness and punch, without the edginess. This is a big plus. Quite frankly, they play and sound like a much more expensive instrument. Players have the choice of picking the highest quality strings. We have had many upright bass players; professionals and serious amateurs that bought this upright as their second or "backup" bass only to fall in love with it, making there old bass the new backup!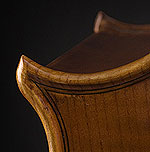 How they look. Here are some thumbnail sized photos. We have linked them to larger sized copies so that you can see the close ups and won't get bogged down with larger file sizes. The tiger grain that is shown here, one will find all over (back, scroll, sides and neck!) The top spruce is also a very elegant, quarter-sawn grain.

A French Bernadel upright bass is the perfect bass to copy. It has an orchestra sized body, but slightly smaller proportions where it really counts: The string length is only 41", the back length is 43 1/2", upper bouts (shoulders) 20" and lower bouts 26" Aside from the obvious physical attributes, the French upright basses have a quick responsiveness.

Only the best fittings are installed on his basses: imported Aubert or Despiau bridges from France. The the best machined tuners from Germany and the 'Ullsa'' German upright bass endpins. In addition we usually install D'Addario Helicore, Pirastro Belcanto strings (for orchestra) or Thomastic Spirocore strings for Jazz players. Of course we can always put on a different kind of brand at the individual player's request. For more about this, see our More About Wan-Bernadel page.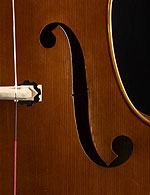 Who buys these! At first we thought that these upright basses would be more interesting to the more serious college student or amateur that desires a really fine bass, but can't afford the higher prices of an old antique upright bass. What we didn't envision is that so many working professional bass players (both classical and Jazz) would love them as well. The symphony orchestras which include a Wan Bernadel: Phoenix Symphony, Ft. Worth Symphony, Houston Symphony and Indianapolis Symphony as well as many other regional orchestras. The list includes professional jazz and classical players in major cities throughout the world! (European customers: we are shipping more and more to EC countries. We have special shipping rates and it's quite easy to get and try a bass.)

With the incredible wood materials available and the old time tested European tradition of upright bass making, these Chinese upright basses are hard to beat. We also include an extensive 3 year warranty.

Testimonials
Here is a list of upright players which shows their many diverse genres and playing backgrounds. Some have their own websites.

Trying one out. There are several ways to try the Wan Bernadel upright bass. Phoenix is actually a cheap air fare from just about every city in the USA. (We also help make special accommodations for our out of town bassists and don't forget about the Saturday night stay over.) Most though prefer to just ship one out for a trial period. It's easy, quick and fairly cheap. (Read more this at: How to try out a bass)
The bass has elegantly sloped shoulders and violin corners. Recently within the last few years, there was an old Gand-Bernadel upright bass reportedly found in a monastery in Belgium. The upright was found with old newspapers wrapped around it from the 19th century when it was made. It was in an original 'new' state and never played. Below here is this original Gand-Bernadel bass pictured next to the Wan upright bass for easy comparison. The Wan has slightly altered shoulders to make it easier to facilitate thumb positioning as bass playing has evolved upwards in the past few decades! See: More about the Wan-Bernadel.

1-(800)-600-2689

For additional details please email us or call.