Cellos for sale
Meet the new Émile Gillet cellos! Pronounced Jee-Lay' these are high level, professional quality cellos, for sale at a student level price. Priced at $3,450, the EG is offered only in a 4/4 size and comes with the new Bobelock 2000 cello case. We're sure that once you play, see and hear the quality of these fine cellos, it will be the beginning of a long enduring relationship with your new cello. We offer a very liberal, 2-week trial period which even includes free shipping costs with a purchase. If for any reason a cello should be returned, there is a $45 shipping charge. Email us here.
See the new Cello Videos! The cello performances are at the bottom of the page. We also have a free, cello CD of the Emile Gillet cellos (read more at the bottom of this page.)
What makes the Emile Gillet cellos so special? Quality! They are created by hand with pride and hard work by fine craftsmen who practice the European tradition of cello and violin making, resulting in instruments that are respected throughout the world over. The Emile Gillet cello is modeled after the famous Gore-Booth Strad, made by Antonio Stradivarious in 1710. Who was Gore-Booth? Many famous violins and cellos are actually named after either the first owner whom may have commissioned the instrument or after someone who owned the instrument at a later time (e.g., the "Paganini" violin or the Davidov cello now played by Yo-Yo Ma). The Gore-Booth was was named after the English amateur cellist Sir Robert Gore-Booth who owned the cello around 1853. The particular model was chosen because of its tonal qualities, form, outline and sheer beauty. (Even the stress marks and varnish wear has been copied.) All Gillet cellos are made from the best materials available in the world. The most important ingredient, the wood, comes from the far northern China forests. The famous violin makers of history would no doubt marvel at these old-growth forests if they could see the beauty and quality of the instruments from these magnificent trees. As the centuries-old tradition dictates, the top of the cello is carved out of aged spruce and the back and sides of maple. The fingerboards are made from the best imported ebony. All the other major accompanying accessories, like the Despiau maple bridges, endpins and strings, are specially imported from France and Germany, as these countries are still the leaders in the finest accessories. See the new web site reserved exclusively for Cello Strings.
Émile Gillet 'Gore-Booth 'Strad' cello, c. 1710'
(for sale, $3,455 including Bobelock case)
Who buys these cellos? There is no typical customer. Young teenagers, that need to upgrade that "first" full size cello which they bought a couple years back, or even make the Gillet cello their first full sized one. The college student wanting a good cello with better quality workmanship, beauty and sound. Even the most seasoned professional cellist, that needs a cello that will look, play and feel like their very valuable 'old' cello. (Some are a little shocked when the new Gillet plays even better than their 'tried and true' old friend.) The reason that we allow for the 2 week period is to completely take off any pressure of hurrying through the process: Players can keep their instruments for a whole lifetime....why rush it? This also allows plenty of needed time to warm up the instrument and show it to teachers, friends and compare it to other instruments that they might be considering (We're not worried about that either!) These cellos are the real deal! This is the first cello CD ever recorded with the full intention of showing off an instrument. We send the CD's out free of charge to any cellist. Feel free to email us here. Give your full name, address and phone number. (More information about recording artists, selections and Mp3 samples can be found towards the bottom of this page.)
Checklist:
Quality craftsmanship
Quality woods
Imported accessories
French bridge
German, Thomastik, Chromcor and Larsen strings ($150 value)
German endpins
Bobelock 2000 cello case
5-year warranty
Call us or email for information on shipping arrangements and 2-week trial period. (800) 600-2689
Our warranty and guarantee. We fully guarantee the workmanship, quality and performance of all Gillet cellos to be of the highest level and what a most discerning cellist would expect from a top professional, quality instrument. All Emile Gillet cellos carry a full, 5-year warranty from the date of purchase. It covers any kind of material defect, workmanship or crack (unless due to some kind of mishap or accident.)
Jan Simiz playing his Emile Gillet cello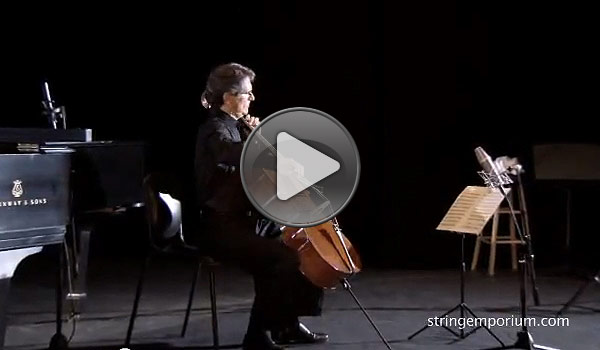 You can call in or order your Emile Gillet cello here:
Order Number
Strings
Case or Cover
Bow
Price
RM300-1
Spirocore Tungsten C & G, with Larsen D & A

Customers and choose any string combinations or brands at no additional cost.

Janson fiberglass cello case
Without Bow

RM300-2
Spirocore Tungsten C & G, with Larsen D & A

Customers and choose any string combinations or brands at no additional cost.

Bobelock #2000 Case
Without Bow
RM300-3
Spirocore Tungsten C & G, with Larsen D & A

Customers and choose any string combinations or brands at no additional cost.

Janson fiberglass cello case
JonPaul 'Bravo' bow
RM300-4
Spirocore Tungsten C & G, with Larsen D & A

Customers and choose any string combinations or brands at no additional cost.

Bobelock #2000 Case
JonPaul 'Bravo bow
(Call us at (800) 600-2689 or email for information on shipping arrangements and free, 2-week trial period.)

We have also uploaded some music files that were taken off the new cello cd. It is in MP3 format so you can click and just listen on your PC, or download to an MP3 (or IPOD) player. Eventually we will try to upload the complete movements.

About the artists:

Cellist Jan Simiz is currently the Assistant Principal Cello of the Phoenix Symphony Orchestra and is an active recitalist, teacher and master class clinician. A native of Romania, he graduated from the Ciprian Porumbescu Conservatory in Bucharest and received a Master of Music degree from the University of USC where he studied with cellist, Eleanor Schoenfeld. Mr. Larry Loeber is a native of Ohio where he attended Case Western Reserve University and the Cleveland Institute of Music. Trained as a concert pianist, he has performed recitals at Town Hall and Carnegie Hall in New York.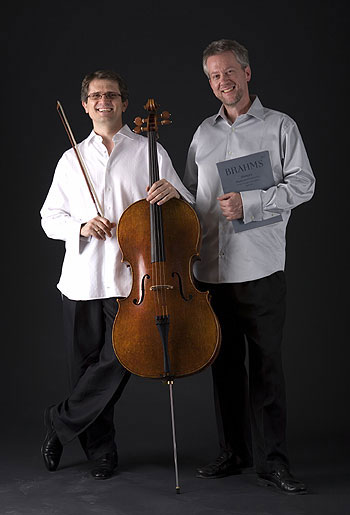 Cello Sonata in E minor by Johannes Brahms:
JS Bach Cello Suite 1 in G major:
Contact us by phone: 800-600-2689