G.B. Rogeri Deluxe Upright Bass
After much anticipation, here is the our new Giovanni Battista Rogeri (c.1690.) model, upright bass. The bass (made in China) is made exactly in step with the Italian tradition of bass making. All hand made, hand planed, using the best seasoned woods and workmanship. We already offer world class basses in the Wan-Bernadel upright basses and these offer a nice alternative. While the Wans are exquisite French bass (Gand-Bernadel, c.1860) model, these basses are slightly bigger and deeper. Our special introductory price: $4,950 (and includes Deluxe cover.)

The measurements of the G.B. Rogeri bass: upper bouts are 20 1/2, the inner "C" bouts 14 1/2", 26 1/4", length of back is 44 1/2". The string length is a very comfortable, 41 1/2". A terrific bass! While it is marginally bigger, it still falls well within the 3/4 size. (Most all regular 3/4 size covers easily fit on this bass.)
See the Rogeri Videos! (Because of the type of lighting and brightness used on the videos, always refer to photos shown here for varnish texture and color accuracy.)
Italian double bass sound and workmanship
How they sound: Because of the slight bolder, deeper body, the sound has a depth to it like no other bass in the world! For a deep projecting sound, this is by far one of the best models to use.

The construction: The GB Rogeri bass is by far one of the best made, constructed basses. The bass has an integrity of workmanship and care that it unparrelled. No short cuts here! Inside, nice linings, and workmanship one will find on the same (older) original Rogeri basses. These new basses have beautifully carved backs (otherwise known as "round" backs.) We always think this is better in the long run as new flat backs tend to be too sensitive to climate change. The round backs, offer more depth to the sound, and at the same time, (for practicality, are more elastic). Meaning, the bass is able to move in and out more with the seasonal changes every year. (Read our Upright bass round vs flat back page.) While the bass has broader shoulders, they are still sloped enough to offer easy access to upper registers.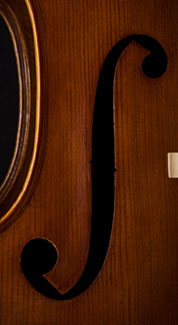 Why copy an Italian, Rogeri bass? A lot of old Italian basses are big and too bulky for the average player, but Rogeri was known for making smaller instruments than the norm and his basses worked: They sounded great, were easy to play and are stunningly beautiful basses. Rogeri, who lived and worked in Cremona, (same as Amati and Strad), helped "fuse" the the Brescian style of bass making into the newer more perfected, Cremonese style in his double basses.

Expert workmanship and quality. The woods used: a nice medium flamed maple back, maple neck and sides. The top of is a medium grained spruce. Like the Wan-Bernadel bass, the Rogeri deserves only the best accessories: The tuners are an Italian, heavy brass style mounted on the side of the scroll (recessed into the scroll 'cheeks') Why do this? Because this looks the cleanest, and shows the beauty of the scroll and wood. Of course this requires skill and patience, but again shows a deep commitment to excellence.
Standard checklist and accessories for G.B. Rogeri upright bass:
expert workmanship, all by hand and in the European style trained tradition


French imported bass bridge with Delrin adjusters


Choice of any high quality bass strings that we carry


Deluxe bass cover, Mooradian or the new Tuff-Bag Deluxe


German made, highest quality, Baker style tuners


hand applied (and rubbed) oil varnish with beautiful patina as shown


high quality, dense ebony fingerboards


our world renowned playing setup (per customer's individual requirements)


Our same as always, excellent (all inclusive) new bass, 3 year warranty


Same special trial period that goes with ALL of our basses sold at the String Emporium. (No penalty for return and no re-stocking fee)
We guarantee our excellence and quality. There has been some confusion about trying a bass: It can take a while to get a feel for and get comfortable for any new instrument. We are happy and expect to send our basses out on a week's trial. First, we never send any of our carved basses in a box! We send them out in the specially designed bass flight caseso that the bass not only arrives in perfect playing order, if for any reason, it can be easily returned safely, the same way it arrived. If the bass is purchased, we arrange to quickly and easily return the empty case. It's a super easy, no pressured way to try a bass! To read more about trying an upright bass, we have more information on that particular page.
1-(800)-600-2689

For additional details please email us or call.