Cheap Upright Basses
Welcome to our new, upright bass page that is specially geared towards high quality, but cheap (i.e. affordably priced) upright basses. This page originally highlighted 2 new (cheaper) upright basses that we offer: The Thompson plywood upright basses and the Emile Gillet, fully hand carved bass, but because we offer such a big selection of different plywood, hybrid and carved basses, we've decided to break them up in separate pages: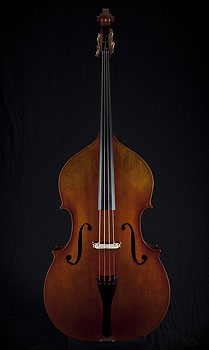 Thompson Plywood Upright basses. The same, reliable Standard model for $1,485 and now, hand oil varnish Standard for $1,585.

Thompson Hybrid Upright basses starting at $2,185 and the fully carved, Emile Gillet basses for $2,950.

New!Check out our new, special Amazing Bass Packaged Deals where adding a pickup, bow or upgraded cover will save a lot of money!
Our philosophy on cheap upright basses:
First, they still have to be built on a very high level. While the prices may be "cheap", the quality is not! The construction of what is inside is equally important to what you see and hear on the outside. Like our reputation for the Wan-Bernadel basses and the Bass Cafe, everything that we offer here is only of the highest quality (guaranteed!)

Secondly, our cheap upright basses have to be set up with the same standards and play as any other (more expensive) upright bass that we offer. All of our cheap, upright basses here come with a full, 2 year warranty against any kind of defects in workmanship or quality. We're very serious about quality here! If you don't see an Emile Gillet bass or Thompson plywood bass at a the local violin/bass shop near you, ask them to call us. Dealer inquiries are most welcome!

For more information you can call or email us at basses@stringemporium.com