Upright Bass For Sale
For years we have called this page the Bass Café because of our dedication to offering a diverse "menu" of varying price ranges and 'flavors'. A lot has changed in the double (upright) bass industry over these past 25 years. Back when we first started here (about '96), if you wanted a fully carved bass, there were very few affordable basses to choose from. Then China started to really evolve into a good musical instrument source at the turn of the new century. At this very same time across the other side of the world in Europe, old traditional countries known for making instruments started to vastly increase pricing. Germany used to be the Go To country there, but soon after the Berlin wall came down, other established music instrument making centers in eastern Europe quickly developed. Romania IS the new Germany now! So these days, basses can and do come from all over the globe. This translates to more affordability, more options....and just way more basses than we've ever had from which to choose!
So while we will still offer great old and new basses here at the Bass Café, our visitors and customers will notice a trend to more contemporary instruments that have more integrity in workmanship, materials used, way better models and of course, way better prices!
About our new, exclusive Romanian basses and why we love these so much. As we mentioned above, Romania is the new Germany! That is, you can get really great workmanship with the highest quality woods and affordability with these basses and get so much more for your money than just about any other bass in the world. Our owner (Steve) has spent the last 35 years playing in a professional orchestra and as most young professional players can attest today, finding a high caliber bass, (professional level) to use and audition with to "win" a symphony orchestra position can be a very daunting experience. Back in the day (1980's) it was not uncommon to see young university graduates show up at their first symphony auditions playing on an old Italian or some other 'master' bass. While it was expensive then, now it is next to impossible for most of these players to find, play and pay for one of these basses. At first, Steve called our exclusive Romanian basses "audition basses" because it exemplified that special bass that one needed to do just that: Win a symphony job, but on a bass that could totally compete with the same, $100,000 entry level Italian bass! These are great for any genre player, albeit classial or jazz.
All photos on this page enlarge when clicked.
Domenico Busan, circa 1750 (Romania, 2020) $8,500
When it comes to the double bass, it's important to not reinvent the wheel! This is why so many violin makers make exact copies of the Strad pattern....because they work. So with basses, when you find an Italian master that sounds and plays well AND the body is the right size, copying it is almost a no brainer.
Domenico Busan was one of the first great Italian master bass makers eminating from around 1750's.. He made all four orchestra instrrments (violin, viola, cello and bass.) While the f-holes are slightly different than the original, it is a common tradition for a maker of the day to use his own (slightly different) f-hole, almost like it is his own signature. Our Busan model has a very rich complexity (think layers) of differnt sound within arm's reach. They are most responsive too. Again, it is a very important trait that the bass responds quickly under the bow. With a warm tone, rich complexity and then easy response, it's a joy to play and even the most demanding professional players (yes, you guys that play the $300k bass!) will love this one too. Will make you sick too... That a bass, for only $8,500 will give your 'old baby' a run for it's money.
Size matters. This bass a "small" 7/8th size. Any bass with full length back measurement of a 45", you would have to perhaps say is "7/8", but then when you factor in everything else, the bass feels like a 3/4 more so. The shoulders, only 20 inches (not 20.5-22!) are more narrow than other 7/8 basses, but also these shoulders are very sloped. This style of sloping (Busan!) made it super easy to play up in the higher registers and it is not "big" to play at all. The string length runs about 41 1/2" (which is what you will normally find on just about any smaller 3/4 sized bass). Easy!! You can play ANY concerto or solo music on it, but the Busan model also sounds like there is a sub-woofer plugged in the wall somewhere. Again, the measurements include upper bouts (at their widest, bottom) 20", the inner 'C' bouts 16", the lower bouts 27". The basses play great right off the bat and just get better and better with playing time. When in stock, $8,500 which also includes a nice Tuff-Bag premium cover. Feel free to call Steve and ask him about these. These basses just work! With lots of American and European bass makers offering basses averaging $20-30k in price, you might want to try this one too. Forget that it is only $8,500, it will play better, sound better and be constructed just as nice or better than that $25,000 bass!
Matteo Goffriller, (Romania, 2020) $8,500
Unlike the other models of basses that we love and make, this Matteo Goffriller bass was actually first made 'just for fun' to see how it would turn out. We didn't have the original, but we knew Peter Chandler (in Canada) whom was a bass maker, had a great example of what they believed to be a Goffriller bass in the Toronto Symphony bass section. He copied it for that player and then sold the blueprints! We'd see these 'out and about' by other prominent contemporary makers. There is a real interest in this model as well and when we saw that they often start (in price) at about $15,000, we thought for sure that we should offer them. These are very well made (better) and will cost almost half the price here.
This is a classic, big style bass. By that we mean that yes, it is big, but it also moves air like a big bass should. While it might be close to length (as the above Busan model), this bass has much broader shoulders. Here's the dims: length of back, 44 1/2", upper bouts 20 3/16", inner C bouts 13 3/4" and the lower bouts 27 1/8", with a nice string length 41 1/2". Click any photo for larger more detailed image.
Giovanni Battista Rogeri, (Romania, 2020) $8,500
This is our exclusive, Giovanni Battista Rogeri model made in our Romania workshop. Some might recognize this exact model with the same one we used to make, but from China. Because of the greater detail workmanship (including a slightly higher top arching), and the superior European maple and spruce species there, these come out very powerful and a very rewarding bass to play and enjoy. The measurements: 20.5" across the upper bouts, 14.5" in the C bouts, 26 1/4" lower bouts with the back only 44 1/2. Basically, a 3/4 size bass, with a string length of only 41 1/2". If you compare to the dimensions of the Busan bass (just above here) it's close, but slightly smaller than the Busan. These have a rich, powerful projection. We love the masuline English style Baker gears on this model as well! These Rogeri models work great for any genre or style. A great bass is just a great bass, no matter what style or setting you play it in.
'Gand-Bernadel, circa 1860', made in Romania, 2019, $8,500
Here's our old 'crowd pleaser' Gand-Bernadel model that we have been making since 2004. In France (during the 1860's) there was a famous violin firm by Gand and Bernadel and among many accolades, they were very well known for making the best basses. These were different compared to many preceding bass models, because they were designed for all the new solo players that were starting to think of the bass as a solo instrument as well as accompanimental.
Everyone likes this one for several reasons: First, is it's size. It's a smaller 3/4 size bass, much like your typical Kay or 3/4 Jusek, BUT the sound and projection that comes out of this little bass, will blow your mind. Why copy a French bass? With so many basses to emulate, we could have settled on just about any bass we like, but this one is special. First of all, it is super easy to play. Very sloped shoulders, and smaller sizing just makes any sized adult able to jump all over the bass. We sell these to petite ladies (5- 4" and above) to some very tall men. Because of it's proportions, the bass has a very focused, clear cut voice. For arco (classical) playing, it can be used in a professional orchestra, a recital, or any jazz setting. They are not bright sounding by any means (nor 'dark') but clearly, there is a big difference in that they "carry" across the biggest concert halls. Want to play concertos? This is your bass! For jazz players, all it takes is a set of Spirocore mediums or Evah Pirazzis and there is plenty of punch and sustain to spare.
Emanuel Wilfer bass, 2015 $9,500
This a nice Emanuel Wilfer bass made in Germany. Most recognize the old, traditional name of Wilfer which are still handmade by the original maker (Emanuel's) grandson, Roland. Roland keeps this multi generational trade alive along with his uncle today. This is their Conservatory model. It has a lovely round back, gamba shaped and some players looking at these photos whom are familiar with the great, old Juzek basses, might notice a strong similarity! This is because it was the Wilfer family who made Juzek's basses for him, which Jusek (a Czechoslavakian), glued his own name labels into the basses and exported them into American for many, many years.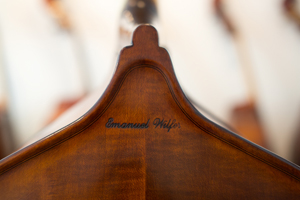 It is proportionately a fun bass to own and play for any sized player or playing level. It is a normal 3/4 size, but with some nice, added extras: We chose what Roland calls his 'solo' neck. It is well proportioned and actually quite perfect in size, for anyone's hands. It is not small, but certainly a bit smaller than his regular necks. Another added feature is his 'solo edge'. The edge is at the very top of the bass top, near the neck, right where the player's hand slides past going up into the higher (thumb) positions. Measurements: upper bouts (shoulders) are only 18 3/4" apart, the lower bouts, 25 1/2", length of back 43" and the string length is 41". This such a nice size for a bass: Anyone (short or tall) will enjoy playing it, yet it has a huge cushion of sound, which proves another point that you can still get a very big, warm sound, yet an extremely easy bass to play on.
It also has a wonderfully built deep, carved back. We first set this bass up for Jazz, which we typically like to put Thomastik Spirocores on. It has a huge, 'growly' sound even before we ever started to dial it in and tweak. Lots of sustain and just a joy to have and play. Just recently, we put some arco/classical strings on it, Passiones (by Pirastro) and happily discovered it makes a wonderful orchestra bass as well.
Shen SB-200, Willow Flat Back bass (fully carved) click a photo for larger image
We have a bunch of these now in stock and have been selling a lot of these basses. Shen makes a nice (affordable) fully carved bass in the SB-200 line. We have been very happy with the consistant quality of materials, the workmanship and the way these basses play. These are not big basses, but smaller to normal, 3/4 size. These remind us of the old Juzek basses that were so popular in the early 1900's. Please call for price, 480-785-5491. We also include special options with the Shen SB200. See our Amazing Bass Packaged Deals page. While it doesn't list the Shen there on our chart, we can also include the Realist, Tuff-Bag and/or bow specials with the purchse. More about the Shen SB200: The sides (ribs) and back are made from willow. Willow is a softer wood than maple, but this is not an usual wood for a bass. One will often see the very old Italian basses made with poplar or willow. Willow, being softer and easier to work with is more plentiful and less in demand. No real such thing as a willow cello or violin for that matter, or at least there is way less demand for this wood which makes it cheaper to buy (much cheaper) and so we can get a more affordable bass. Maple is harder and a lot harder to crack, but these willow basses are showing over the years that they are a good wood/bass and hold up nicely. Incidentally, softer woods have a quicker play-in time in that they are (when new) often warmer sounding as well. Anyone can also see here that the willow is a very nice, darker wood. These SB200 basses are sold with our special, professional bass set ups, customers can order whatever strings they like on it at no extra charge. We also include one of our cheaper, Chinese cordura covers, but again, customers can upgrade that too. Again, call us for the price. We also have an additional, separate webpage for the Shen Willow SB200.
Gyorgy Baranyai, 2001 (Hungary)
Made by Gyorgy Baranyai in Budapest, 2001. It is beautifully hand made bass with a lush varnish. One will almost immediately notice its unique and different shape. It is modeled and made after a typical Viennese style. One of the biggest and most well known makers in the 18th century, Vienna, was Johannes Georgius Thir. Like the Thir basses, Baranyai modeled his scrolls beautifully the same unique way and style that makes it very elegant. (We have an original Thir scroll below for comparisons.) This a flat back that comes in towards the neck to make it easy to play on, has a lot of power and a unique, (professional) quality sound. Now presently has the Spirocore strings for jazz and is in excellent condition. The bass is of a very professional quality. If you are a serious classical musician looking for a good 'audition' bass. This one will work incredibly well. It is very responsive to the touch and easy to play on. Easy for solos and excerpts, but with a warm, quality sound. Jazz players, won't loose out on this one either. It has that special deep power that is very special and an incredible sustain. I guess a good bass is just a good bass, no matter what genre it is used and played in! You will see basses by this same maker around the country for around $13,000, but we are able to offer it at $9,500. This bass also with the nicer, Sloane tuners. SOLD
Big Mittenwald!
This is a nice, big, German, Mittenwald. It just came in and will be undergoing some small, cosmetics, but is a good, healthy (and big!) instrument. It has a carved back with outside linings on the ribs and a deep, round sound to it. Here's some measurements: the upper bouts measure 20.75" across with sloped shoulders, the C bouts (inner) measure 15", the lower bouts, 27" and the length of the back, measure 45.5". The string length is 42 3/8". It has a new (fat) ebony fingerboard and bridge. While it is big, it plays 'loose' and actually quite easy to play. Notice the 'false nut'? Click the close up of the scroll.) The neck and string length was actually longer than it needed to be. It order to make it easier to play, lowering the nut actually brought in the string length and made it a perfect 'D' neck. (A "D" neck simply means that when playing with your index finger, the D is right at the break of the neck...where it should be.) $8,500 now, $6,500
Rumano Solano, Vincenzo Panormo model, 2005 (Maryland, USA)
This is by contemporary, maker Rumano Solano who lives and makes basses in Maryland. The upper bouts measure 21 1/2" across, the lower bouts 27 1/2" and the length of the back is 43 1/2". The string length is a mere, 41 1/8". Interestingly there is a gradual deepening of the ribs from the neck area that joins the bass body where the ribs are only 7 1/2" and grows gradually wider and wider through to the bottom of the bass (endpin) that comes out to 10 1/4". For comparison, our own G.B. Rogeri basses only go out to around 8 3/4", and they are considered a normally 'full' 3/4 size bass. We measure the top of the top to the back of the back. While the Rogeri dimensions are very typical, this just shows how deep this Solano gets towards the bottom. It is being offered here on consignment and it is in excellent condition. While this Solano has the ordinary body length and string length of a regular, 3/4, the wideness and depth almost between 7/8 and 4/4.
It has Sloane tuners and a very deeply carved back. One of the deepest backs one will see on a bass! We can easily ship for an easy trial. Has a nice, deep sound. Owner is motivated and wants to sell it, was $10k, now $6,950 obo.
Emanuel Wilfer, 'Solo' model, Germany, 2011
We are proud to introduce 2 new very unique and special models by the maker, Emanuel Wilfer of Möhrendorf (Bavaria) Germany. There are 3 generations of making in the Wilfer family and these are hand made, by Rolande Wilfer. This one is his new, Solo model in which we specially requested a lion's head scroll. While it is called 'solo' model, is in no way limited to only solo type, (recital) playing. I think he calls it his solo model because of the slightly more narrow shoulders and is physically so much easier to play in the upper registers. It has a nice, deep orchestra sound and can be played in any type of genre, whether jazz or classical. It's just a good, well made, big sounding isntrument. It is a normal 3/4 size with the upper bouts (shoulders) measuring 19 1/2" across, the lower bouts, 26 1/4" across, the length of the back, 44" and the string length, 41 1/2". A lions head scroll is attractive on a scroll and also adds a lot of mystique and attention. It is what we call a 'lifer/' in that this is another great sounding bass which like other historic, (old) basses, will get passed down through future generations of players. How does it play? Again, it plays 'easy'. It doesn't take much to get the string to vibrate and physically, with the narrow (solo) type model, very easy for anyone to play over in thumb positioning. $13,500 (Shop and compare, you will usually see this level of Wilfer basses starting at $16k.) Wilfer #2, (below) (made with Wilfer's his old wood). It is $12,500. SOLD
Emanuel Wilfer, 'Prague' model, bass, Germany 2011
This bass is Wilfer's 'Prague' model which was specially made for us at the String Emporium. What's the story on this one? It was Rolande Wilfer's grandfather's original model of some old, Bohemian bass that he liked. The deeper ribs, gives this bass a deeper, cushy kind of sound when playing. It has a jazz set up currently, and while it is super easy to play and very responsive, it's got this huge punch to it and very rewarding to play on. Here are the measurements: the shoulders are 19 1/4" across, the lower bouts are 26 1/4", length of the back, 44" and the string length is: 41 1/4" $12,500
Jerome Thibouville Lamy, c.1890.
This instrument, has had a lovely history of being played in some of the world's great orchestras and fittingly, this is another 'great', bass offered here. It was recently restored and is in beautiful condition. Although it was used pretty extensively in professional orchestra settings, it is one of those great basses that belongs wherever the player chooses to take it. It has a great punchy, clear spiccato and a well developed range. No weaknesses here: It has the classic reddish-brown (French) varnish with a beautiful flat back with the famous, "false" neck button (the French makers sometimes did this to show off the "regular" violin/cello outline, but still giving the bass an easier sloped should near the neck stand to make it easier to play on. Inside, the label reads: Jerôme Thibouville Lamy, 1890. $24,000 obo Be sure to click on any photo shown here for a larger, more detailed image. SOLD
Juzek upright bass?
Another 'oldie', possibly by Jan Juzek. There is some hand writing on the directly on the inside back making note of the new top that was replaced in 1934. Flat back and gamba shaped with a nice low C-extension in it. Has a nice dark chestnut varnish on it and very articulate sounding bass. It is in great shape and also has the traditional outside linings (could be a German bass too.) The upper bouts are 20 1/2", the lower bouts 25 1/2", the back is 43" and the string length, 41". SOLD
John Osborne, upright bass, England, C.1920
Here is a great upright bass by John Osborne and is in the true English tradition, with slightly more broader shoulders (still a little sloped near the neck for easier playing.) Inside the bass, the label reads: John Osborne, Farley Street, Leamington Spa, October 18, 1920.The measurements: 21 3/4" across the upper bouts, 26" lower bouts, 44 1/4" back, and only 41 5/8" for the string length. It is a very playable bass. At one point, this was owned by the great, Monty Budwig (jazz bassist) who passed away sometime ago and for the past 10-15 years was owned and played in a major American symphony orchestra. Sound-wise it's clear and carries well in any setting and is very versatile. (People often ask us: "What makes a great jazz bass or what makes a great classical bass?" Well, our answer is simple, "Great basses are just great basses and one should be able to play a 'great' bass in any genre." This is such a bass. Be sure to click on any photo shown here for a larger, more detailed image. SOLD
Leon Mortin double bass, Mirecourt, c.1905
A double bass, by Leon Mortin, Mirecourt, France (1905). One of the most awesome upright basses on the planet for sure! There is a maker's label inside which reads: Ancienne Maison Vuillaume Darte et Cunin Leon Mortin. Luthier, Mirecourt 1905), but we have seen another similar upright, which was made by Leon Fischesser-Shollet whom lived to Paris in 1905 (the same year thatitwas made.) The most striking and obvious highlight of it is the magnificent lion's head scroll carving. It is a good sized scroll and very detailed.; (Even the back of the scroll has an incredible array of the back of a lion's mane.) Everything about it breathes elegance from the scroll, to the perfect curves of the form outline and violin corners, to the perfect exquisite (Strad) style f-holes. More so than anything though is the way the it plays. It is a clear, focused instrument and very responsive which was played in major orchestras for many years. Beautifully carved back (with lots of flame!) This is a bass which you can hear 10 feet away as well as all way up in the balcony seats. SOLD

Be sure to click on any photo shown here for a larger, more detailed image.

Don't forget, there are more double basses here too.
Upright bass by Jacquet-Gand c.1860
Another great French bass by Jacquet-Gand made sometime around 1860. The maker of this upright was more than likely Gabriel Jacquet (known as Jaquet-Gand for marrying into the Gand family). See the Wan-Bernadel upright basses. A full 3/4 size bass. The upper bouts measure 20 1/8", the lower bouts 25 3/4", and the length of the back, 44" The string length is 42" SOLD

German Upright Bass, C.1890

It has no label, though it's more than likely a German, upright bass. Circa 1890's. It has a good flat back construction which tapers off into the neck black. The bass is covered with a lovely, warm brown amber varnish. The sides and particularly the back have some nice flaming in the wood grain as well. All though it's a normal 3/4 bass, it has slightly wider upper bouts (shoulders) at 20", the lower bouts 26", back length 43" and a nice string length of 41 3/8". This upright has just recently been restored and is in fantastic shape. A very special bass! $7,500 now, $6,500 (See more double basses for sale at the More upright Double Basses link.

For more information you can call or email us at info@stringemporium.com