Bam Cello Cases, call for price.
We now offer BAM Cello cases. BAM enjoys a very reliable reputation for excellence and French fashion! Anyone that went to the most recent NAMM (musical instrument trade show), would have seen the people lining up to get a photograph next to their 'Cow Case'! Yes, that's real cowhide and they call it their "Texas" line! This one is not popular with the animal rights activist/cellists. Eeeeha! Sorry, don't normally stock these, but if you want to order one, we could certainly do that for you.

We offer 3 models of BAM Cello Cases:
The Classic cello case, with wheels, is their most affordable cello case. It is a sporty looking case (with wheels) and average weight around 13 lbs. The Classic is made with ABS plastic and is very popular.
The normal advertized price for these is $690, but please call for our special sale price, 800-600-2689 (480-785-5491) Free Shipping on the BAM cello cases.
Here are photos of the new, BAM Classic Cello Case, with Wheels. We have this red color available and also grey, but if there is another color choice that you prefer, we can certainly order it.
Click on any photo to see larger image screen: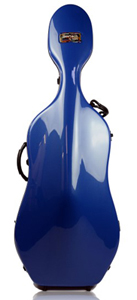 Newtech cello case (with wheels) is lighter in weight, 12 lbs and is made with a layered laminate type of shell which makes them very strong, yet light and easy to use. We have black and this Ultramarine blue color available and these are the two most popular colors. Suggested advertised price for the Newtech cello case (with wheels) is $1,063. Please call for our sale price: 800-600-2689 or (480) 785-5491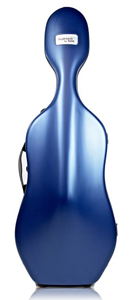 Hightech 2.9 Slim Case is by far their "dream" case. It is a svelte lightweight case (6.4 lbs) and does not have (nor does it need) wheels. BAM likes the 'brushed' finish look on their hightech Slim cello cases. These list for $1,995, but please call us for our price. 800-600-2689 or (480) 785-5491 At the moment, we only have these in black color (most popular choice!) More photos coming soon...
There is no 'point and click' shopping cart for these cases. Please call to order, 800-600-2689 or 480-785-5491.