Dr. Beat for the upright bassist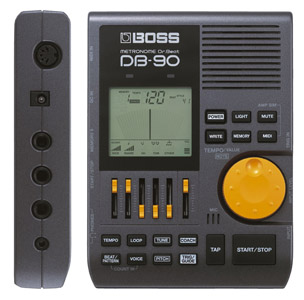 Ok, when I was in college, the best metronome you could get was a pocket Seiko that had a nice dial in the middle of it and the upgraded model would also give a tuning note, A-440. It was a good little metronome that could easily fit into a pocket and it was a huge improvement over the old, (wind up) lopsided sounding wooden ones people kept on their pianos! Nowadays, one can get an electronic metronome that also functions as a tuner as well for a fraction of the price of we use to have to pay.

What I love about these new DB-90's (Dr. Beat) metronomes is of course the incredible arrange of pulse ranges, rhythms, combinations, and accents....wow! I still haven't figured out all the potential ways to use this one, but the easy dial on it and the ability to change anything while you're working on it is so user friendly. You'll have to spend a few minutes reading the short manual of what it can do (or if you're like me, just give it to your teenager to quickly become an instant expert on it and then show you in person!)

The function that I absolutely love about this box is that while I am working on a passage, I can then quickly switch the tones that it gives in several octaves and just set one pitch (as loud as I want). Say for example I am working on a solo passage that tends to hover (in tonality) around an Eb. I can set the drone pitch to the Eb or even a fifth above or whatever you want and use that to make sure that all the notes stay in tune in my passage. For some really hard, (slow) passages with big and awkward shifts, it's cool if you have another tuner to set two pitches. In some cases a passage is so hard and atonal, that to have two preset tones sounding while you play, allow you to check each one as you go along in that passage so you don't have to stop, put your bow down and re-set the pitch. Or, you can have your metronome working on one, and then use the one as your pitch drone.

In any case, I still use my Dr. Beat a lot. I know they're expensive (for a metronome) but it really helps me economize on my practice time and narrow down the issues that I need to work on with the ease of having it all in one box. Go back to the metronomes and tuners page.
| | | |
| --- | --- | --- |
| | | |